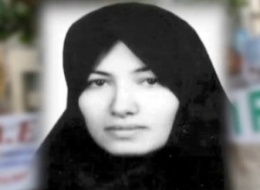 In Iran, a woman convicted of adultery can be buried up to her chest and stoned to death by her village... in 2010. We're not talking about being plummeted by a rock that would cause death instantaneously. We're talking about being pelleted by rocks that can inflict pain and physical damage, but nevertheless a slow, painful death. Since 1986, Iran has reported 26 cases of women being stoned to death- this does not included undocumented cases.
Such is the case for 42 year old mother of 2, Sakineh Mohammadie Ashtiani (pictured). Ashtiani, who does not speak Farsi but Turkish, was convicted of adultery in 2006 and received 99 lashes (after which a forced confession was taken). Recently acquitted of murdering her husband, she now faces the punishment of stoning.
Only international pressure can help Sakinah Ashtiani. Mina Ahadi, who heads the International Committee Against Stoning and the Death Penalty told CNN: "Legally it's all over. It's a done deal. Sakineh can be stoned at any minute." U.S. Assistant Secretary of State P.J. Crowley said Thursday. "For a modern society such as Iran, we think this raises significant human rights concerns."
In 2008, the film "
The Stoning of Soraya M.
" was released, gaining laurels from Toronto and Los Angeles film festivals. The movie was based on the true life events told to French-Iranian journalist,
Freidoune Sahebjam
, that surrounded
Soraya Manutchehri,
who was falsely accused by her husband and stoned to death by her village.
Sounds like Iran needs a Feminist movement to shake things up a bit. For now, reach out to organizations like Mina Ahadi's International Committee Against Stoning and the Death Penalty (
http://stopstonningnow.com/
) and Amnesty International (
http://www.amnesty.org/en/news-and-updates/report/campaigning-end-stoning-iran-20080115
).