Monthly, Ladies Lotto will be keeping an eye out for our extraordinary contributing members who deserve to be recognized! For May, we have: Kiki T., Emily Griffin, and Ce Ce Chin!!
Kiki T., New York
Chapter: LLNY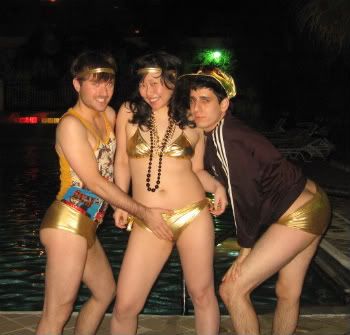 Kiki T. and her "bitches" in Miami--doing it up for Eurotrash 2007, "gold lame all the way"!
Astrosexologist Extraordinaire Kiki T. loves to sleep in late more than anything on this earth, but still manages to live an active life complete with two books under belt--ANGST: Teen Verses From The Edge (a compilation of teen poetry from a website she co-founded and was EIC) and The Celestial Sexpot's Handbook--her astral opus, containing all her cosmically-induced observations on the male species. Currently, she writes astrology columns www.thefrisky.com, Page Six Magazine and lifetimetv.com, and is a regular on The Ed Lover Morning Show in NYC. Her specialty is the love and sex aspect of astrology, hence being the one and only Astrosexologist!

www.fortunekiki.com --[underway]
www.thefrisky.com --[weekly astrosex and love scope and advice forum—24/7 write in your questions for star-studded advice!]
www.myspace.com/celestialsexpot
Thanks Kiki for being Ladies Lotto's sex and love guru! :) We love you!
Emily Griffin, Seattle
Chapter: LL Seattle
Emily Griffin is a respected contributor to electronic music culture, helping to magnify its influence worldwide. While living in San Francisco, Emily became known as Ms.E – a radio host, club promoter and DJ. She took dance music culture to the airwaves on KUSF 90.3 with the program Future Breaks FM, co-founded the drum & bass club Eklektic, worked as Director of Marketing for XLR8R magazine, and created an alliance of women in the music business called Electric W.O.M.B.

As a music supervisor for her company BeatSync in Los Angeles, Emily aligned exceptional independent artists with opportunities in film, TV and advertising. Her passion for positive, music-driven media fuels her collaborative involvement in all aspects of the business, orchestrating projects that continue to expand the possibilities of music. Now based in Seattle, Emily is a Music Programmer for Zune at Microsoft and is preparing the launch of her digital label Sanguine Recordings.

http://social.zune.net/member/GriffinGrrl
http://myspace.com/emily_griffin
http://sanguinerecordings.com
Thanks Emily for being the woman of music in Ladies Lotto!! =)

Ce Ce Chin, New York
Chapter: LL NY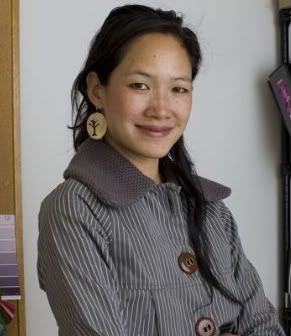 Ce Ce Chin is an accessories designer who's quickly becoming known for her signature cocktail of major label craft and street level attitude. Chin moved to NY in 1994, and cut her teeth designing for powerhouses like Calvin Klein and Michael Kors. But all along, she felt that something was missing.
That something was the perfect shoe. Sure there were shoes out there, but none of them were just right. This one was too-boyish-- that one felt (and looked) like a bed of nails. Where was that Goldilocks shoe that was playfully comfortable and still makes you feel flirty... and sexy? Since she couldn't find it, she decided to make it herself. So three years ago, Chin burst on the scene with 80%20, her footwear company. Chin has had runaway success with her signature hidden wedge, which garnered retail attention from leaders such as Isetan Japan and American Rag in Los Angeles. The shoe has been featured in such magazines such as Nylon, Teen Vogue, Lucky and Vivi Japan.
In the boys club of mammoth footwear corporations, Chin's story read like David vs. Goliath. Of course you can't go wrong with a great idea. The ideology behind 80%20 came from her observation that we tend to wear our favorite 20% of our wardrobe 80%2 of the time- and these are definitely part of the 20% you can't live without.
Thanks Ce Ce –your talents amaze us all! :)
If you guys see any of these ladies walking down the street, go and take them out to dinner because they deserve it!! :)