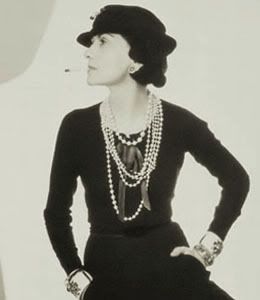 To kick off the first day of Women's History Month, let's take a look at one of the most influential fashion designers of the world: Gabrielle Bonheur "Coco" Chanel (August 19, 1883 – January 10, 1971). Unlike many people in today's world, Coco didn't get her success through inheritance or through riches; she started completely from scratch. She grew up in a poorhouse with nothing at all. To make matters even more dramatic, she was an illegitimate child, and her family was unstable. As a result, she ended up in an orphanage at the age of 12, where she developed an interested in sewing. Despite all of that, Coco was still a strong and motivated individual! She started her own millinery business, and through that came her huge success. From that point on, she designed simple and comfortable, yet elegant outfits for real women. What's even more noteworthy is she took poor fabrics and upgraded them! Doesn't this sort of remind you of the current vintage culture that we have in today's society?!
Ladies Lotto gives Gabrielle Bonheur "Coco" Chanel two thumbs-up for being such a great motivation for women all over the world! She is the perfect example of an entrepreneur who built her own empire from the ground up.
Let's end this with some inspiring words from Coco Chanel:
"A fashion that does not reach the streets is not a fashion."
"Fashion has become a joke. The designers have forgotten that there are women inside the dresses. Most women dress for men and want to be admired. But they must also be able to move, to get into a car without bursting their seams! Clothes must have a natural shape.