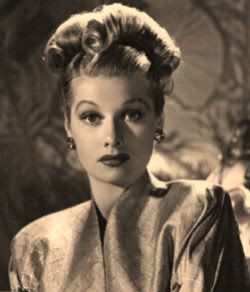 Our next inspiring woman starred in the famous American television sitcom, "I Love Lucy". Tell me, who doesn't know who

Lucille Désirée Ball

is?! Lucille Désirée Ball (August 6, 1911 – April 26, 1989) is the first woman of comedy, and she is best known as America's favorite redhead. Lucille started off without any kind of talent or education. Eventually, after auditioning for numerous roles, she landed some minor gigs. Finally, her career jumpstarted when she met her husband, Desi Arnaz. Together, they formed a television series called the "I Love Lucy Show" by themselves in 1951, which has been proven to be super successful! A few years after the series ended, the couple got a divorce. As a result, she bought out her ex-husband's half of Desilu, the largest production facility in the world! Lucille was the first women in history that held so much power in the entertainment industry.
Till this day, Lucille's spirit is embodied by those who weren't even alive during her time of success. Lucille Ball helped shape the careers of women in the entertainment industry, and she will be forever envied for stepping up to the plate.
In the words of Lucille Ball: "I have an everyday religion that works for me. Love yourself first, and everything else falls into line."
That's right!