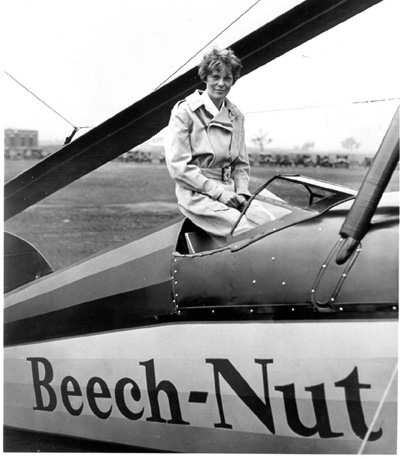 Amelia Earhart's a courageous savage, and that's the reason why she's today honoree!
Amelia Mary Earhart (July 24, 1897 – missing July 2, 1937, declared deceased January 5, 1939) was an American aviation pioneer, author, and a women's rights activist. She grew up in Atchison, Kansas with a family that was very wealthy. Since she was young, she felt that there was a huge inequality regarding women and career opportunities; she kept a scrapbook throughout high school with newspaper clippings about successful women in male-dominated careers.
Her interest in aviation began when she went to a stunt-flying exhibition with a friend. She determined that she wanted to fly when Frank Hawk gave her the very first ride of her life; once she was up about 200-300 feet above ground, she knew it was her calling.

She saved up money to receive flight lessons from Anita Snook, female pioneer aviator, and shortly, she purchased a biplane. On October 22, 1922, Earhart flew the Airster to an altitude of 14,000 feet, setting a world record for female pilots.
Since that day, Amelia tried to set numerous world records. She is best known for being the first woman to fly solo across the Atlantic Ocean (1932); this flight took a total of 14 hours and 32 minutes! The duration of the ride involved strong northerly winds, icy conditions and mechanical problems.
In 1937, Earhart planned a round-the-world flight. Once she set off and left with her partner, there were issues with the radio frequency and the navigation. The signals started to cut off heavily, and since then, Earhart had mysteriously disappeared. As a result, they spent $4 million in efforts to search for her, but she was no where to be found.
Until this day, there are numerous theories and no one really knows the real story.
Amelia Earhart is what little girl's aspire to be! She's a great role-model, and she's proved successfully that women can be fully capable (even better) at male-dominated jobs!!

In the words of Amelia Earhart: "Please know I am quite aware of the hazards," she said. "I want to do it because I want to do it. Women must try to do things as men have tried. When they fail, their failure must be but a challenge to others."