Models are known for being the tall slim women, with long gorgeous flowing hair, radiant skin, flawless features and legs for days. While the fashion industry thrives for the perfect look, I love and commend those who don't and still stand out beyond the typical mannequin models. Two models that have always stood out,
Omahyra Mota
and
Crystal Renn
.
Omahyra Mota
Omahyra Mota, the bad ass model from the 90's before the Agyness Denn's even came about. Born in the Dominican Republic and moved to New York by the age of 10, this young model was soon signed to Boss Models 6 years later. Omahyra was known for her androgynous look. Gaped front teeth, edgy boy hair cut, and lip pierced was once viewed as abnormal was soon all over the billboards. Campaign model for Roca Wear to the catwalk for the late great Alexander McQueen, Fendi, Jean Paul Gaultier, and Nina Ricci to name a few.
Omahyra, known for modeling both men's and women's clothes, was voted one of People Magazine's 50 most beautiful people in 2001. Omahyra has made an impact within the fashion world, modeling and acting under her belt since '04, who knows what else there is for Mota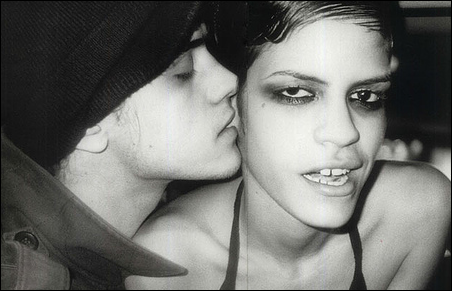 Crystal Renn-
Model Crystal Renn first came to light at the age of 14 and was told to lose a third of her body weight.
She did as she was told in the beginning of her career to fit in. She did the diets, ate properly, and went to the gym, all for the sake of fashion. Over time her body caught up and she had a health crisis causing her to rethink some of her habits. Gaining back 70lbs to get back to her normal body weight, she was officially noted as a plus size model. When coming back into the fast lane of the fashion life, she had gained back her original 40% body weight, which would make her a size. Since her come back, she has been able to be on even more magazine spreads, representing the plus size women. Some magazines include Italian Vogue, V magazine, and Harper's Bazaar.
Recently reporting for Glamour Magazine on New York Fashion Week 2010 on the fall collections, Crystal wishes to continue to her plus size career as well as making the world accept the plus size models even more.
Whats not to love about a model who wants to be more than just another pretty face, but a face and a story that's unforgettable.