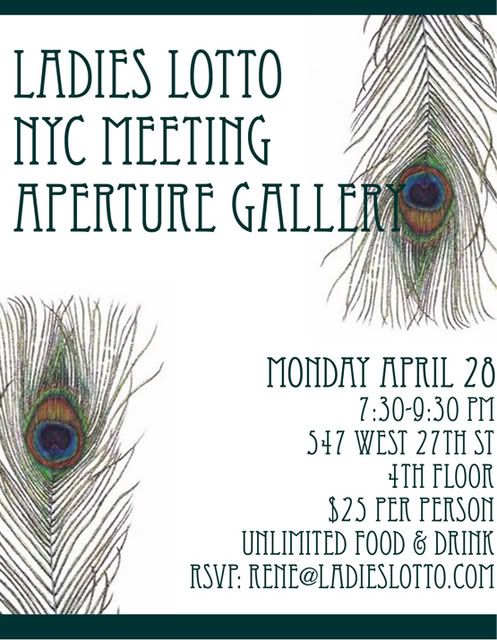 Monday April 28th

7:30 - 9:30 pm
Aperture
547 W 27th St - 4th Floor
New York, NY 10001

$25 per person day of
$20 Pre Pay HERE

Food and Drinks unlimited

Open meeting with REQUIRED
RSVP
: rene@ladieslotto.com


Aperture -a not-for-profit foundation-the premiere source for fine art photography, was founded in 1952 by six gifted individuals: photographers Ansel Adams, Dorothea Lange, Barbara Morgan, and Minor White; historian Beaumont Newhall; and writer/curator Nancy Newhall. With scant resources, these visionary artists created a new periodical.


Aperture magazine, to serve photographers and photography enthusiasts worldwide. With profound respect for the integrity of the viewer's experience and the artist's vision, Aperture presents to the public the finest photographic images that are faithful to the artist's intent and to the truth of the subject. These images are conveyed as intended by the artist, uncompromised by commercial motive, marketplace trends, or external censorship.


Our Speaker: Michelle Dunn Marsh
Michelle Dunn Marsh is an advocate for photography and design. She has worked with the Aperture Foundation since 1996, and presently serves as deputy director of the Foundation and as co-publisher for Aperture magazine.
For the last five years she has been responsible for Aperture West, a regional outreach program, and the Foundation's presence in the west continues to be an area of focus. Her current responsibilities include working with the senior team at Aperture to provide strategic leadership for all mission-driven programs of the organization.