MissCrew. com
Turns Two!

Friday April 25th
@ Milk SF

M.I.S.S. (Mama's International Secret Society) is ladies' online lifestyle magazine that covers fashion, beauty, art, music, design, travel . . . and anything else we love. M.I.S.S. turns 2 this April and we want you to come and celebrate with us at Milk Bar in San Francisco, on Friday, April 25th. Please RSVP at rsvp@misscrew.com for guest list. This isn't just any night at the club, we'll have cupcakes, goodie bags and lots of other fun treats.
See you then! Eyes to the Sky, Ears to the Street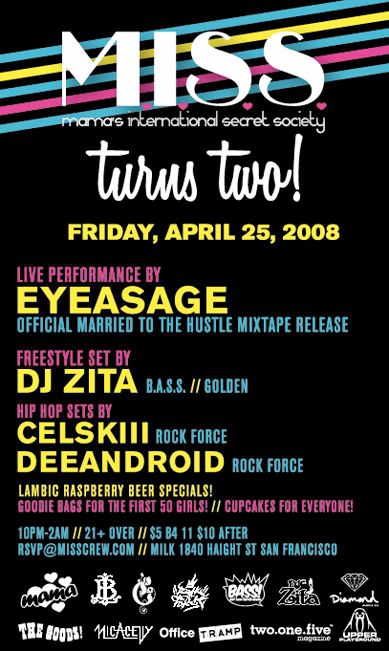 I met Mama/Gabby on a Monday night at SWAY a few years ago. Physically, she is quite small in stature but her energy was bigger than anything else in the place. She told me about M.I.S.S. crew, I shared Ladies Lotto with her. She gave me a M.I.S.S. crew card which I still keep to this day.

Happy 2nd Birthday to M.I.S.S. Crew. If you're in SF, go out and celebrate tonight!