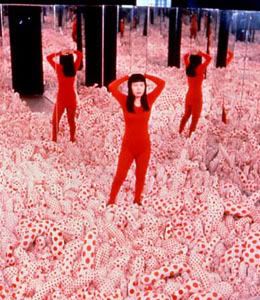 Imagine how it would feel to wake up and envision colorful dots, nets, and flowers on every single object you saw; the walls, the trees, people. It's difficult to think about, but wouldn't the world be so much brighter?


On this day, we honor
Yayoi Kusama
(March 29, 1929), a mentally ill artist and feminist who faces hallucinations of dots, nets, and flowers. Yayoi was born in Matsumoto, Nagano Prefecture, Japan. As a child, Yayoi was abused by her mother and she suffered from obsessive, suicidal thoughts. By the age of 10, she began to see the world through new eyes. Dots, nets, and flowers were covering every object that her eyes set upon.
Yayoi Kusama uses her hallucinations to create different forms of artworks such as paintings, sculptures and environmental installations. Her artwork often represents feminism, surrealism, pop art, etc. As a result of Yayoi's huge success, she has also designed lines of fashion and she did some work in film.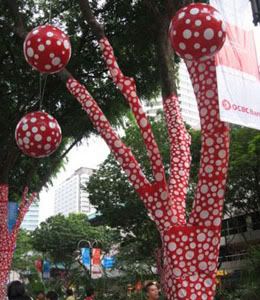 Yayoi is absolutely fabulous for creating such meaningful art, and for giving us another vision of what the world could look like. Yayoi remains to be an inspiring woman and she uses her mental illness for something truly creative.


Although it may be a mental illness that she is suffering, perhaps it may be a special gift that no other person has because Yayoi is able to see a world full of colors, shapes, and livelihood. How many of us can truly say that we do the same?!


Ladies Lotto
appreciates Yayoi for letting us into her world!